opis
1. Piotr Tymochowicz – malarz mieszkający w naszej gminie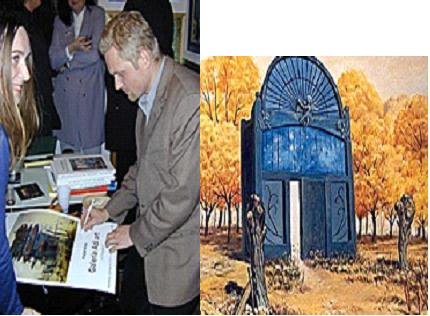 Piotr Tymochowicz, ur. w 1968 r., studiował na Wydziale Sztuki UMCS w Lublinie. Dyplom uzyskał w pracowni A. Styki. Uprawia realizm symboliczny, gdzie fantazja miesza się z rzeczywistością. Zajmuje się malarstwem i rysunkiem.
Wystawy indywidualne:
1990 - WDK, Zamość 1993 - Muzeum Okręgowe, Zamość - Galeria 31, Lublin1994 - Muzeum Okręgowe, Zamość 1995 - Galeria EMPiK, Chełm - Galeria Zachód, Chełm - Galeria EMPiK, Chełm 1996 - Galeria Teatru NN, Lublin - Galeria 31. Lublin 1998 - Galeria3 - Dom Sztuki, Warszawa 1999 - Galeria Amfiteatr, Zamość - Galeria 526, Łódź 2001 - Świat Książki, Gdynia 2002 - Galeria 3130, Lublin - Galeria Adi Art. Łódź Wystawy Zbiorowe:
2000 - "Grafika i Rysunek Roku 1999", Muzeum Lubelskie, Lublin 2001 - "Twórcy z terenu powiatu chełmskiego", Miejski Ośrodek Kultury, Rejowiec Fabryczny
Prace w zbiorach:
Muzeum Okręgowe w Zamościu, Galeria 31 w Lublinie, Teatr NN w Lublinie, Poleski Ośrodek Sztuki w Łodzi, Galeria Adi Art w Łodzi.
Piotr Tymochowicz sztukę tworzy przede wszystkim dla siebie, żyjąc w oddaleniu od wielkich miast, co niejeden uznałby za usprawiedliwienie dla nicnierobienia.
Pracuje w samotności.
Piotr Tymochowicz żyjąc w oddaleniu od wielkich centrów sztuki nie przejmuj się modami i ma czas, żeby uważnie obserwować zmiany świat rozgrywające się dookoła. Wszystkie sceny z wychodkiem w roli głównej dzieją się w przyrodzie. U Piotra nie ma miasta. Są za to rozległe horyzonty, płaska, lekko pofałdowana ziemia, bujne łąki, pełne kwiatów, trawi ziół, bywają także góry, tajemnicze rozstępy ziemi, dziury, przepaście i skały, rzeki ognia i pożary. Tkwi na nich bocianie gniazdo. Fantazja miesza się z rzeczywistością. W przy rodzie dzieją się rzeczy niezwykłe: pojawiają się nagie kobiety przykryte tylko mgiełką, strachom na wróble wyrastają diabelskie rogi, domy rozrastają się na kształt chińskich pagód, drzewa płoną na horyzoncie. W zwykłą rzeczywistość - poprzez lekkie przesunięcia, szczeliny i zagięcia przestrzeni- wkrada się niezwykłość. Zwyczajnym krajobrazom dodany zostaje niezwykły element - fantastyczny stwór, kobieta, strach, zjawisko atmosferyczne. Wystarczy uważnie patrzeć. Symbolizm Piotra jest przy tym nastrojowy. Wielką rolę gra odpowiednie światło, tworzące atmosferę całej sceny.
Ale nie wszystko jest piękne. W obrazach Piotra pojawiają się często wizje zepsucia, zniszczenia, spękanych ścian, ruin, porzuconych mebli. Wychodki rozsypują się ze starości. Jest pusto i ani śladu żywego ducha. Samotność wyraża się także w motywach związanych z zerwaną komunikacją, ze śmiesznością, błazenadą, poprzez symbol słupa telegraficznego czy stracha na wróble.
Z obrazów Piotra bije przekonanie, że to, co widzimy, to, czym się posługujemy, co czuje my, smakujemy i słyszymy, to tylko powierzchnia rzeczywistości, że widzialność jest tylko firanką, która można odgarnąć i zobaczyć pod nią inne światy. Więc pod łąką z domkiem wsadzie drzemie morze o czerwonych falach, na płaszczu stracha na wróble - rozsiadła się pokryta śniegiem równina.
To, jak w końcu rysunki Piotra zostaną od czytane, zależy tylko od fantazji oglądającego. Ale nie mają one jednoznacznej wymowy.
To widz musi decydować, co na nich dostrzega - a nie jest to łatwe.
Rysunki nie mają zatem tak mocnego zakorzenienie w realności, jak obrazy. Są bardziej dwuznaczne i prowadzą bardziej skomplikowane grę między realnościami i skojarzeniami. Przez to moim zdaniem bardziej otwierają widza na własne interpretacje, mniej narzucając mu swoje wizje i wymagając jego twórczego udziału.
Piotr Tymochowicz trzyma się z boku wydarzeń na scenie artystycznej, a wszystkie modne trendy nie znajdują większego odzwierciedlenia w jego sztuce. To nie zarzut, przecież trzymanie się na uboczu daje mu wielką wolność. Robi, co chce i tak jak chce.
Pozostaje uczciwy wobec siebie i nas - jego widzów.