Cerkiew p.w. Św. Mikołaja w Dratowie
Historia cerkwi w Dratowie
Zachowane dokumenty świadczą, że cerkiew w Dratowie istniała na przełomie XVII/XVIII wieku. Była to budowla drewniana. Ze względu na zły stan techniczny została rozebrana w 1867r. Na jej miejscu powstała druga – również drewniana budowla.
W 1886 r. pożar częściowo strawił wnętrze drewnianej cerki. Niestety drugi pożar w 1888 r. pochłonął wnętrze cerkwi z ikonostasem, obrazami, księgami metrykalnymi oraz wyposażeniem
i sprzętami.
W 1888 r. wmurowano kamień węgielny pod budowę nowej cerkwi. Konsekracji świątyni p. w. Św. Mikołaja w 1889 roku dokonał biskup Fławian, sufragan chełmsko-warszawskiej diecezji prawosławnej.
Budynek cerkwi zaprojektował w tzw. stylu eklektycznym rosyjski architekt N.K. Syczugow. Cerkiew założona jest na rzucie krzyża, z dzwonnicą w fasadzie. Została ujęta dwustronnie symetrycznymi przybudówkami.
Nawa główna szersza i wyższa od pozostałych członów budowli. Prezbiterium zamknięte trójbocznie. Stylistycznie cerkiew w Dratowie nawiązuje od eklektycznego stylu rosyjskiego. Dekoracja elewacji budowli wykonana za pomocą bonowania.
Na podstawie sygnatury malarza zamieszczonej w plafonie wiemy, że autorem fresków był Julian Mizfski (Mizefeski?). W 1891 roku zakończył wystrój malarski wnętrz, który przetrwał do naszych czasów.
Fresk nad częścią ołtarzową przedstawia powrót syna marnotrawnego, w plafonie widzimy Trójcę Świętą, a nad chórem widnieje postać patrona świątyni Św. Mikołaj.
W 1985 roku odrestaurowano freski, co zostało uwieńczone podpisem "1985 Drugoj raz Ignaciuk".
Podczas I wojny światowej, w 1915 roku ewakuowano prawosławną ludność
w głąb Rosji. Wywieziono również całe ruchome wyposażenie cerkwi. Po zakończeniu działań wojennych i powrocie "bieżeńców" niewiele zdołano odzyskać.
Do wnętrza wstawiono ikonostas niewiadomego pochodzenia, który został zniszczony w latach 1943 – 1947. Obecnie w cerkwi znajduje się ikonostas sprowadzony w latach pięćdziesiątych XX z Sanoka. Ikony to kopie, ponieważ świątynia była wielokrotnie okradana.
Współcześnie.
Cerkiew w Dratowie jest jedyną z ciekawszych tego typu budowli na Lubelszczyźnie.
W celu ratowania niszczejącego zabytku w 2007 roku cerkiew i dom diakona zostały poddane generalnemu remontowi pod opieką lubelskiego duchowieństwa i służb konserwatorskich. Większość prac wykonali pracownicy budowlani zatrudnieni i finansowani przez Lubelski Węgiel Bogdanka S.A.
Obecnie cerkiew p.w. Św. Mikołaja w Dratowie jest filialną świątynią Parafii Prawosławnej p.w. Przemienienia Pańskiego w Lublinie. Opiekę i posługę religijną sprawuje dojeżdżający do Dratowa ksiądz Mirosław Wiszniewski.
Wierni.
W 1872 roku parafia w Dratowie liczyła 1050 wiernych z Kaniwoli, Ludwina, Dratowa oraz okolicznych miejscowości.
W 1913 roku w parafii było 1400 wiernych z Kaniwoli, Ludwina, Dratowa i okolicznych wiosek, również z Nadrybia.
Obecnie na nabożeństwa do cerkwi w Dratowie uczęszczają nieliczni wierni z Dratowa, Ludwina oraz starsi mieszkańcy z Kaniwoli, a więc dziadkowie uczniów SP w Nadrybiu.
Cmentarz prawosławny w Dratowie
Cmentarz prawosławny założony na początku XX wieku znajduje się około 1 km na wschód od cerkwi. Zajmuje powierzchnię ok. 0.80 ha. Obecnie ogrodzony jest metalową siatką, brama i furtka wykonana z prętów. Stara część cmentarza zakrzewiona. Najstarszy pochówek pochodzi z 1933 roku.
Na cmentarzu znajduje się grób pisarza z Ludwina – Andrzeja Łuczeńczyka.
Literatura:
1. "Powiat Łęczyński monografia krajoznawcza.", Wydaw. Starostwo Powiatowe w Łęcznej, Łęczna , Wyd. I, s.126-127
2. "Powiat Łęczyński, przyroda, zabytki, pomniki przyrody, zdjęcia, mapy, informacje adresowe, Wydaw. Starostwo Powiatowe w Łęcznej, Łęczna 2006 , Wyd. II, s.59-60.
3. "Śladami wschodniosłowiańskiej tradycji cerkiewnej na Polesiu Lubelskim. Horostyta – Hola – Sosnowica – Dratów", pod red. ks. Tomasz Łotysz, Wydaw. Prawosławna Diecezja Lubelsko-Chełmska, Lublin 2007, s.73-85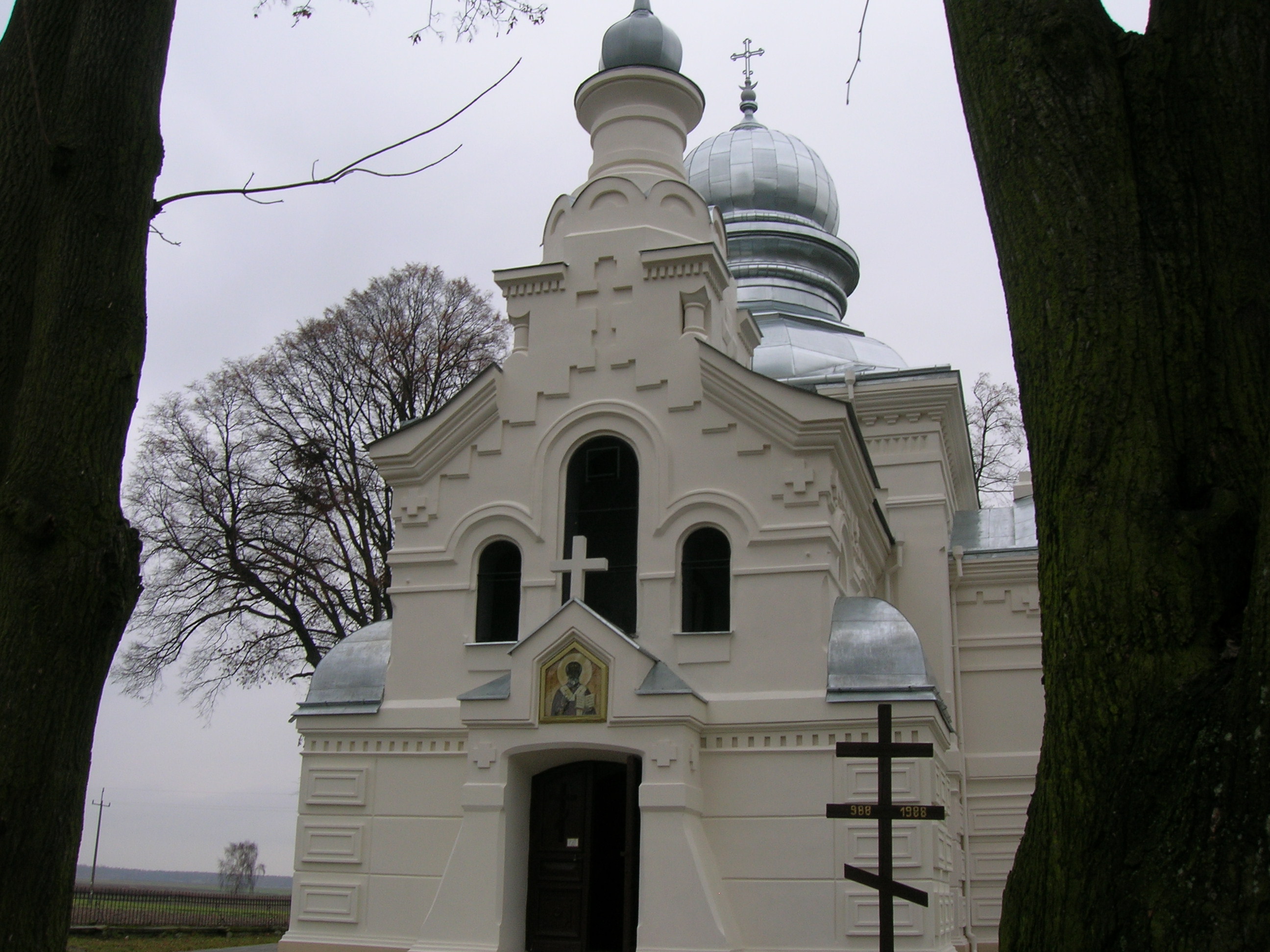 Widok wejścia do cerkwi pw. Św. Mikołaja w Dratowie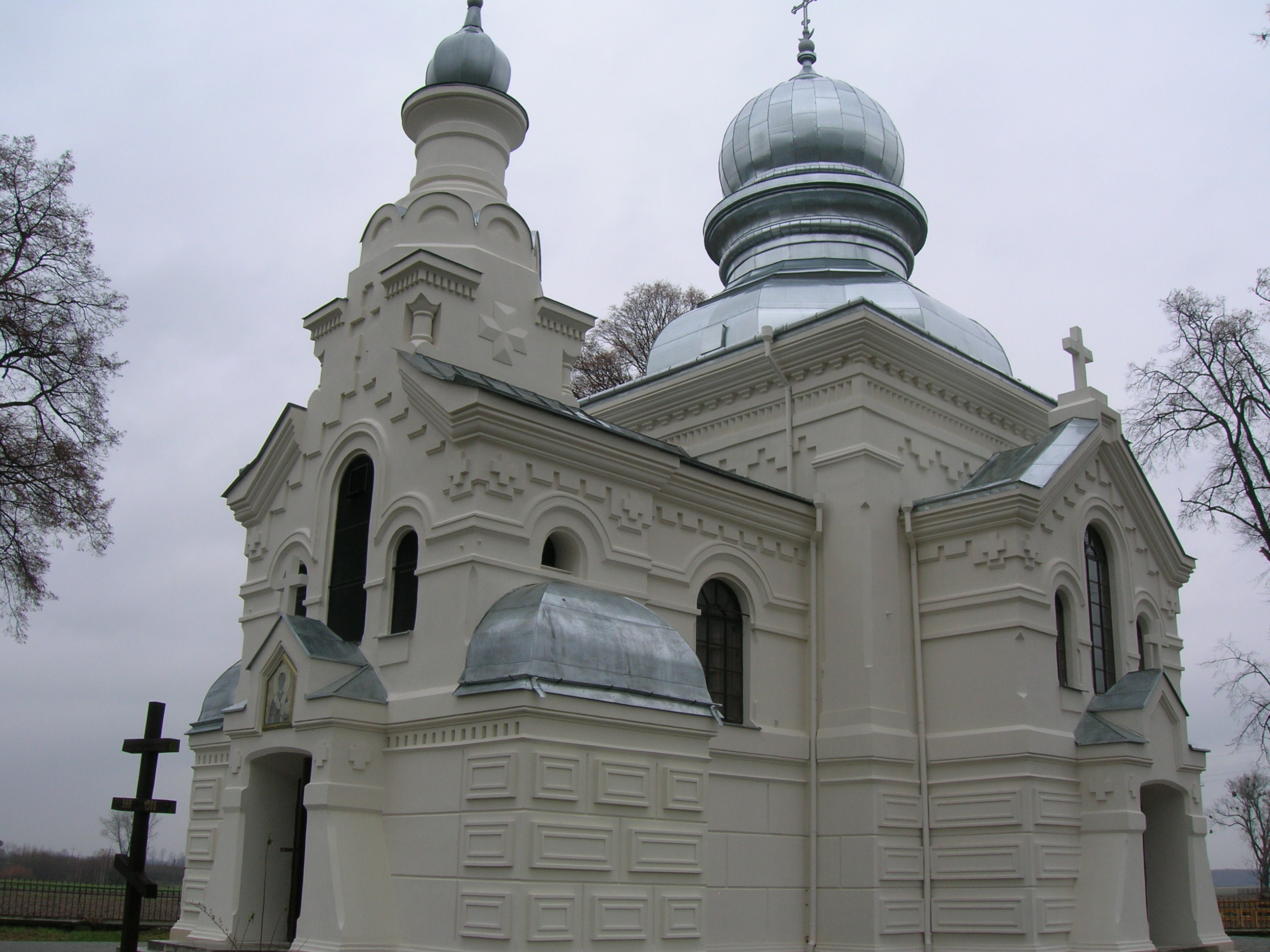 Widok cerkwi pw. Św. Mikołaja w Dratowie